Tweet
As an African American woman I am more than aware of the fascination that most black men have with bodacious booties or less respectfully called "fat asses". This isn't a new phenomenon, there are countless hip hop songs dedicated to the infamous body part. Many of us little girls even got chased around the playground from some little boy trying to get a feel. I've noticed that this infatuation starts quite early, because even my 2 year old son who's used to seeing his mommy's more than ample rump has a thing for the bootie...
It's humorous how a big butt became synonymous with being a "black woman", in fact, there is quite some backlash for those that are less blessed, earning a medical term called the "noassatall" disease, I guess it really is a big deal, huh... The normalcy of curves and big behinds in our community made way for some sort of infatuation for woman outside of our race that also happened to be blessed. In short, we made fat asses fashionable, yes I said fashionable, because the ass now plays a dual role as both a functioning body part and an accessory...
In fact the ass has become so popular that there are some fab celebs who's round derriere's catapulted them to A-list status. Have you ever heard of Jennifer Lopez? What about Kim Kardashian? I won't get into the countless video vixens who have become household names due to their obscene size asses and crazy waist to hip ratio's. Every where you turn, there's a picture of someone posed with an over inflated ass poked out a mile.
Is it real? Is it fake? She has implants, she has injections... The authenticity of the bootie is now questioned daily; white woman have asses, Indian women haves asses, models have asses, Asian women have asses. It wasn't that long ago when a big butt was considered a fat ghetto girl thing, uh yeah it was considered just that outside of our community...
Now the ass is such an asset that women are paying thousands to attain that perfect accessory to go with their $300 jeans, some are even risking their lives for this constantly changing and unattainable standard of beauty and perfect body. Just this week, there was a news report about several woman in NJ that were hospitalized for being injected with some sort of manufactured substance in lieu of silicon. The first thing that all women need to know is that although implants are legal and deemed safe, a plastic surgeon will NOT inject large doses of any substance into the human body, because it's just not safe. So if your wondering why the injections are illegal and being performed in motel rooms instead of sterilized medical facilities, it's because they are in no way, shape or form safe!
Is it that serious that we are willing to risk our health and lives to live out some video chick, porn star fantasy with the perfect body?? Maybe I don't understand the woes of being curve less, but my motto is pretty much love me or leave me alone! Accept my DD's and fatty along with a little jiggle that comes with it, because I don't workout every day and my body will not ever like Beyonce's or Kim K.'s, and I am more than ok with that, because when I look in the mirror I accept and love what I see, flaws and all...
If your a woman who doesn't have someone telling you how beautiful you are than look in the mirror and tell yourself! Do not allow these insane beauty ideals affect how your feel about yourself, because as you've heard a million times before, "It's what's on the inside that really counts"!
Take a look at some of our most famous "Bootie Queens"!
Vida Guerra
Melissa Ford
Buffy the Body
Tahiry
Angel Lola Luv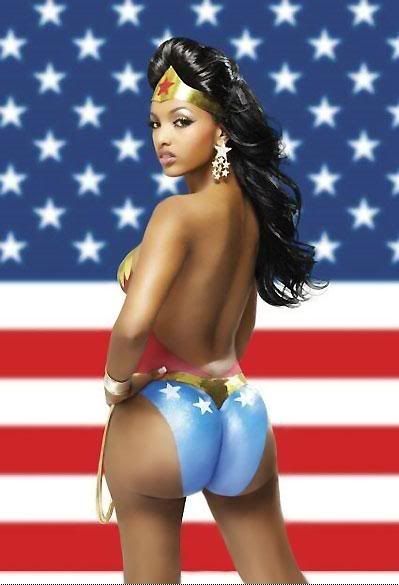 the new Barbie... Nicki Minaj